This Restaurant in Texas Is Offering Vegan Brisket and People Are Freaking Out
A brand-new Dallas-area restaurant, V Eats Modern Vegan, made headlines last week with its vegan brisket.
Yeah, you read that right: vegan brisket.
According to the restaurant's website, "Chef Troy Gardner specializes in crafting succulent plant-based 'meats' that will amaze your taste buds. His clever use of cruelty-free ingredients creates the texture and flavors of meat with compassion."
While the restaurant features a variety of veggie-centric dishes, Chef Gardner has also created totally plant-based versions of a few meaty Texas favorites. In addition to the brisket, which is available on a sandwich or in tacos, the restaurant offers Salisbury steak, chili cheese dogs, and Buffalo mac 'n cheese.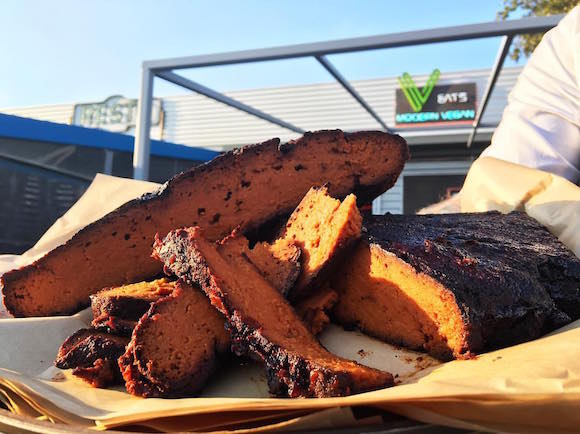 But you don't have to move to Dallas for a delicious vegan meal.
From burgers and pizza to ice cream and cheesecake, tasty alternatives to cruel animal foods are hitting store shelves all the time. And almost every city in the North America has incredible vegan restaurants or restaurants that can create fantastic vegan dishes.
For veg restaurants near you, click here.