This Brand-New Vegan Cookbook Will Help You Save Time, Money, and Animals
Toni Okamoto, co-author of The Friendly Vegan Cookbook and the brains behind acclaimed vegan blog Plant Based on a Budget, is at it again with an impressive collection of recipes: The Super Easy Vegan Slow Cooker Cookbook.
Featuring 100 delicious, affordable, and easy-to-make recipes, this book tackles one of the biggest issues faced by vegans of all ages—how to make mouthwatering vegan dishes with little time and money.
The cookbook goes on sale May 30, but there's no need to wait. You can preorder your copy today!
Here's a taste: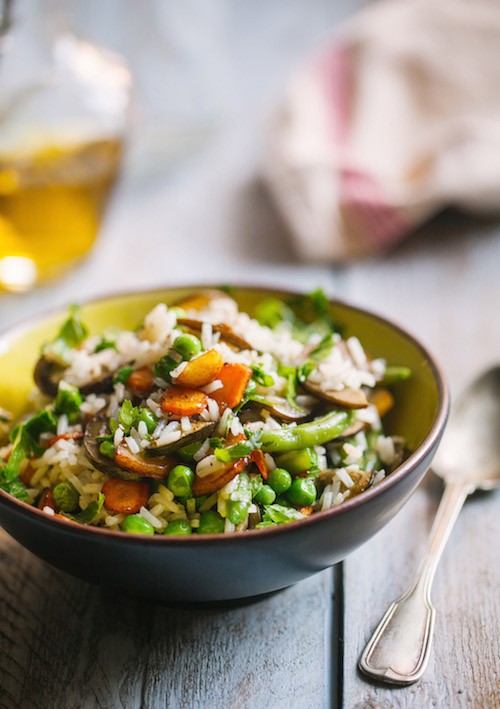 Golden Garlic Rice
Serves 4
Prep Time: 15 minutes
Cook Time: 25 minutes
Ingredients:
½ tsp. poached garlic oil
1 cup long-grain white rice
¼ small yellow onion, finely chopped
3 poached garlic cloves
2 cups vegetable broth
½ cup frozen mixed veggies
¼ cup sliced shiitake mushrooms
Directions:
Add the oil, rice, onion, and garlic to a medium sauté pan. Cook over medium heat, stirring frequently, until the onions become translucent and the rice turns a golden brown (about 2 minutes).
Add the vegetable broth, frozen vegetables, and mushrooms.
Bring to a boil, cover, and lower to a simmer.
Allow to simmer for 20 minutes.
Cooking Tip:
If you use organic rice that's grown in the United States, it isn't necessary to rinse before cooking. Rinsing does remove excess starch, however, so if you have an extra minute, rinse your rice in cold water before cooking for perfectly fluffy rice.
Click here to preorder your copy today!