One of Our Favorite Food Bloggers Just Released a Vegan Cookbook—Here's a Recipe to Try
Richa Hingle, the mastermind chef behind the beloved blog Vegan Richa, is well-known for her mouthwatering plant-based recipes and gorgeous accompanying photos. She is also the best-selling author of Vegan Richa's Indian Kitchen.
Last week she released another impressive collection of recipes, Vegan Richa's Everyday Kitchen: Epic Anytime Recipes with a World of Flavor. Featuring loads of delicious, entirely plant-based recipes, this cookbook offers something for everyone, and even includes an index of recipes free of gluten, soy, and nuts!
Here's a taste: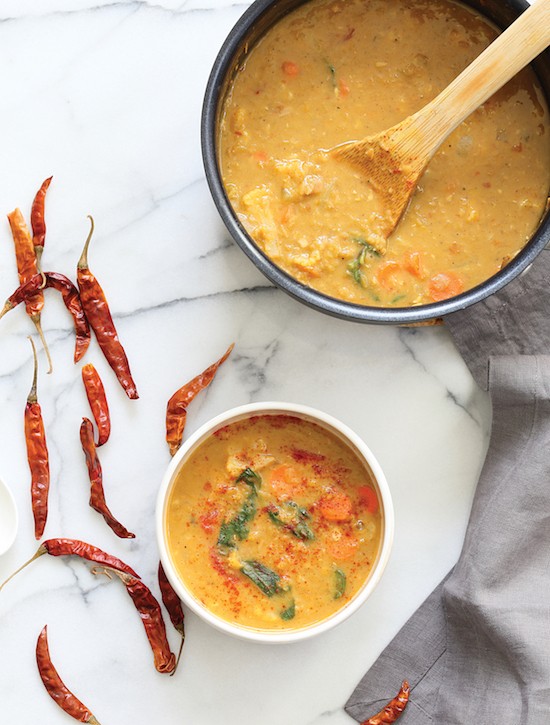 Red Curry Soup With Lentils
Serve this very slurpable soup with large soup spoons. For a brothy soup, add more coconut milk or water.
Serves 4
½ cup red lentils, sorted, rinsed, and drained
3 ¼ cups water, divided
1 teaspoon organic safflower or other neutral oil
¾ cup coarsely chopped onion
4 cloves garlic, finely chopped
1 small knob (1/2 inch) fresh ginger, peeled and minced or grated
3 tablespoons red curry paste
2 ½ to 3 ½ cups thinly sliced bell pepper (any color), carrots, or zucchini (or small cauliflower or broccoli florets)
1 13.5-ounce can full-fat coconut milk
1 teaspoon salt
1 ½ tablespoons raw sugar or other sweetener
¼ teaspoon cayenne Zest of 1 lime
1 teaspoon fresh lime or lemon juice
½ cup loosely packed fresh Thai basil or sweet basil
¼ cup coarsely chopped fresh cilantro, divided (optional)
Fresh lemon wedges, for garnish
1. Combine the lentils with 2 ½ cups of the water in a small saucepan over medium heat. Cook the lentils for 13 to 15 minutes, or until they are al dente, stirring once halfway through the cooking time. Drain the lentils and set aside.
2. Meanwhile, heat the oil in a large saucepan over medium heat. Add the onion, garlic, and a pinch of salt and cook until the onion is translucent, about 4 minutes. Add the ginger and red curry paste and stir to combine. Cook the mixture for 1 to 2 minutes, until the paste is fragrant. Add the bell pepper and a splash of water and cook for 5 minutes.
3. Add the milk, remaining ¾ cup water, salt, sugar, cayenne, lime zest, and lime juice and stir to combine. Add the cooked lentils and bring the mixture to a rolling boil for about 6 to 7 minutes. Taste and adjust the seasonings. Reduce the heat to low. Add the Thai basil and 2 tablespoons of the cilantro (if using) and stir to combine. Cover the saucepan and simmer for a few minutes, until the vegetables are cooked through and the flavors meld. Garnish with the remaining cilantro and lemon wedges and serve.
Variations: Add some smooth peanut butter and curry powder for a Massaman-style soup. Add 10 ounces of cubed firm or extra firm tofu instead of cooked lentils.
So what are you waiting for? Click here to order your copy today!!