Louisville Company Has Vegan Jerky of the Month Club—With Top Secret Flavors
If you're anything like me, the promise of new vegan goodies each month is something worth celebrating!
That's why I was so excited to discover that the Louisville Vegan Jerky Company has a Jerky of the Month Club!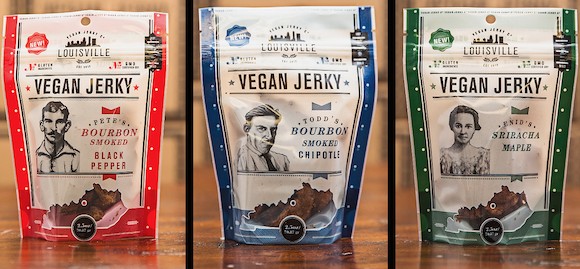 That's right. Delicious handcrafted vegan jerky will now be delivered to my door EVERY month.
Explains the company's website:
We're the only hand-bagged vegan jerky that's made in the USA. We like to think we stand out from the other guys by using ingredients like non-gmo certified soy, maple syrup sourced from 20 minutes away, and Kentucky proud sorghum.
Hand-seasoned with thoughtful ingredients and spices, each flavor contains a little piece of our hometown.
The best part?
In addition to two regular flavors, which include maple bacon, sesame teriyaki, sriracha maple, and bourbon smoked chipotle, subscribers receive a "top secret batch" each month.
Ready to order? Get 15 percent off if you subscribe by Friday using the code BLACKBERRY.
This product is not only a super exciting addition to your usually boring mail (credit card offers, anyone?) but also helps spare countless animals a lifetime of suffering on factory farms.
Click here for a list of our favorite meat alternatives.